怎样写非虚构作品?
    我读过一些英文世界关于写作的指南,如
The Elements of Style
和斯蒂芬金的
On Writing
,还有经济学家杂志的文字指引
《有效写作十三篇》
。他们对写作看法相通:写作是一门手艺,得训练。一气呵成文不加点也许有,那是天才的事情,手艺人必须反复修改,修改是写作的核心。好文章要清楚、简单、简洁、准确。
    On Writing Well是这一写作传统的另一本经典。我读的是30年纪念版。作者William Zinsser长期为纽约客等美国一流杂志撰稿,后在耶鲁大学开设写作课程。他视The Elements of Style的作者E.B.White为偶像,本书为其补充。
    On Writing Well的最大特点和优点是对改进写作有直接用处。在强调清楚简洁有力的文风之外,Zinsser体察写作者的痛苦,一一开释,对症下方。他致力于改进非虚构写作,分门别类,科技、体育、回忆录、游记,评论,指出不同文体写作的要点和盲区。有人作评,如果关于非虚构写作只能读一本书,读这本。
    读
The Elements of Style
、
On Writing、
经济学家杂志文字指引,能颠覆中国读者的写作观,如何重建我则推荐读On Writing Well。这本书不止于阐释观念,不涉及英文字词标点的推敲,能超越语言差异,使中文写作者也受益,因此也是我读过的惟一值得全部汉译的英文写作指引。中国人民大学出版社正在翻译当中,8月下旬会出。晚比没有好,希望译笔能对得起原作。
    下面是我的摘录。能读英语没时间读全文的话,读这个也可以。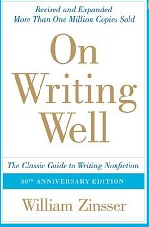 位置125-126 
Rewriting is the essence of writing.
位置128-129
the professional writer must establish a daily schedule and stick to it. I said that writing is a craft, not an art, and that the man who runs away from his craft because he lacks inspiration is fooling himself.
位置267-273 
Is there any way to recognize clutter at a glance? Here's a device my students at Yale found helpful. I would put brackets around every component in a piece of writing that wasn't doing useful work. Often just one word got bracketed: the unnecessary preposition appended to a verb ("order up"), or the adverb that carries the same meaning as the verb ("smile happily"), or the adjective that states a known fact ("tall skyscraper"). Often my brackets surrounded the little qualifiers that weaken any sentence they inhabit ("a bit," "sort of"), or phrases like "in a sense," which don't mean anything. Sometimes my brackets surrounded an entire sentence—the one that essentially repeats what the previous sentence said, or that says something readers don't need to know or can figure out for themselves. Most first drafts can be cut by 50 percent without losing any information or losing the author's voice.
位置304-305 | 已添加至 2013年7月26日 星期五 13:03:58
There is no style store; style is organic to the person doing the writing, as much a part of him as his hair, or, if he is bald, his lack of it. Trying to add style is like adding a toupee.
- 我的标注 位置376-387 | 已添加至 2013年7月26日 星期五 15:50:34
"Who am I writing for?" It's a fundamental question, and it has a fundamental answer: You are writing for yourself. Don't try to visualize the great mass audience. There is no such audience—every reader is a different person. Don't try to guess what sort of thing editors want to publish or what you think the country is in a mood to read. Editors and readers don't know what they want to read until they read it. Besides, they're always looking for something new. Don't worry about whether the reader will "get it" if you indulge a sudden impulse for humor. If it amuses you in the act of writing, put it in. (It can always be taken out, but only you can put it in.) You are writing primarily to please yourself, and if you go about it with enjoyment you will also entertain the readers who are worth writing for. If you lose the dullards back in the dust, you don't want them anyway. This may seem to be a paradox. Earlier I warned that the reader is an impatient bird, perched on the thin edge of distraction or sleep. Now I'm saying you must write for yourself and not be gnawed by worry over whether the reader is tagging along. I'm talking about two different issues. One is craft, the other is attitude. The first is a question of mastering a precise skill. The second is a question of how you use that skill to express your personality.
==========
- 我的标注 位置614-615 | 已添加至 2013年7月26日 星期五 18:42:55
Be liberal in accepting new words and phrases, but conservative in grammar.
==========
- 我的标注 位置620-621 | 已添加至 2013年7月26日 星期五 18:44:13
The only trouble with accepting words that entered the language overnight is that they often leave just as abruptly.
==========
- 我的标注 位置627-627 | 已添加至 2013年7月26日 星期五 18:46:42
Incorrect usage will lose you the readers you would most like to win.
==========
- 我的标注 位置706-712 | 已添加至 2013年7月26日 星期五 23:46:25
What annoys us is that the writer never decided what kind of article he wanted to write or how he wanted to approach us. He comes at us in many guises, depending on what kind of material he is trying to purvey. Instead of controlling his material, his material is controlling him. That wouldn't happen if he took time to establish certain unities. Therefore ask yourself some basic questions before you start. For example: "In what capacity am I going to address the reader?" (Reporter? Provider of information? Average man or woman?) "What pronoun and tense am I going to use?" "What style?" (Impersonal reportorial? Personal but formal? Personal and casual?) "What attitude am I going to take toward the material?" (Involved? Detached? Judgmental? Ironic? Amused?) "How much do I want to cover?" "What one point do I want to make?" The last two questions are especially important.
==========
- 我的标注 位置718-719 | 已添加至 2013年7月26日 星期五 23:46:42
think small. Decide what corner of your subject you're going to bite off, and be content to cover it well and stop.
==========
- 我的标注 位置721-723 | 已添加至 2013年7月26日 星期五 23:47:03
As for what point you want to make, every successful piece of nonfiction should leave the reader with one provocative thought that he or she didn't have before. Not two thoughts, or five—just one. So decide what single point you want to leave in the reader's mind.
==========
- 我的标注 位置740-743 | 已添加至 2013年7月26日 星期五 23:56:05
The most important sentence in any article is the first one. If it doesn't induce the reader to proceed to the second sentence, your article is dead. And if the second sentence doesn't induce him to continue to the third sentence, it's equally dead. Of such a progression of sentences, each tugging the reader forward until he is hooked, a writer constructs that fateful unit, the "lead."
==========
- 我的标注 位置750-752 | 已添加至 2013年7月26日 星期五 23:56:34
your lead must capture the reader immediately and force him to keep reading. It must cajole him with freshness, or novelty, or paradox, or humor, or surprise, or with an unusual idea, or an interesting fact, or a question. Anything will do, as long as it nudges his curiosity and tugs at his sleeve.
==========
- 我的标注 位置755-757 | 已添加至 2013年7月26日 星期五 23:57:36
take special care with the last sentence of each paragraph—it's the crucial springboard to the next paragraph. Try to give that sentence an extra twist of humor or surprise, like the periodic "snapper" in the routine of a stand-up comic. Make the reader smile and you've got him for at least one more paragraph.
==========
- 我的标注 位置893-894 | 已添加至 2013年7月27日 星期六 0:18:11
The perfect ending should take your readers slightly by surprise and yet seem exactly right.
==========
- 我的标注 位置898-899 | 已添加至 2013年7月27日 星期六 0:19:22
For the nonfiction writer, the simplest way of putting this into a rule is: when you're ready to stop, stop. If you have presented all the facts and made the point you want to make, look for the nearest exit.
==========
- 我的标注 位置899-901 | 已添加至 2013年7月27日 星期六 0:20:49
Often it takes just a few sentences to wrap things up. Ideally they should encapsulate the idea of the piece and conclude with a sentence that jolts us with its fitness or unexpectedness.
==========
- 我的标注 位置908-911 | 已添加至 2013年7月27日 星期六 0:21:38
Something I often do in my writing is to bring the story full circle—to strike at the end an echo of a note that was sounded at the beginning. It gratifies my sense of symmetry, and it also pleases the reader, completing with its resonance the journey we set out on together. But what usually works best is a quotation. Go back through your notes to find some remark that has a sense of finality, or that's funny, or that adds an unexpected closing detail.
==========
- 我的标注 位置994-994 | 已添加至 2013年7月27日 星期六 8:41:48
Humor is best achieved by understatement, and there's nothing subtle about an exclamation point.
==========
- 我的标注 位置1016-1020 | 已添加至 2013年7月27日 星期六 8:47:19
Many of us were taught that no sentence should begin with "but." If that's what you learned, unlearn it—there's no stronger word at the start. It announces total contrast with what has gone before, and the reader is thereby primed for the change. If you need relief from too many sentences beginning with "but," switch to "however." It is, however, a weaker word and needs careful placement. Don't start a sentence with "however"—it hangs there like a wet dishrag. And don't end with "however"—by that time it has lost its howeverness. Put it as early as you reasonably can, as I did three sentences ago. Its abruptness then becomes a virtue.
==========
- 我的标注 位置1040-1040 | 已添加至 2013年7月27日 星期六 14:20:30
Always use "that" unless it makes your meaning ambiguous.
==========
- 我的标注 位置1076-1076 | 已添加至 2013年7月27日 星期六 14:26:09
Don't overstate.
==========
- 我的标注 位置1170-1171 | 已添加至 2013年7月27日 星期六 14:34:05
Rewriting is the essence of writing well: it's where the game is won or lost.
==========
- 我的标注 位置1282-1285 | 已添加至 2013年7月27日 星期六 14:42:26
The reader plays a major role in the act of writing and must be given room to play it. Don't annoy your readers by over-explaining—by telling them something they already know or can figure out. Try not to use words like "surprisingly," "predictably" and "of course," which put a value on a fact before the reader encounters the fact. Trust your material.
==========
- 我的标注 位置1517-1517 | 已添加至 2013年7月27日 星期六 14:59:06
When you use a quotation, start the sentence with it. Don't lead up to it with a vapid phrase saying what the man said.
==========
- 我的标注 位置1577-1582 | 已添加至 2013年7月27日 星期六 19:49:16
I have no problem calling "Mr. Hunter's Grave" nonfiction. Although Mitchell altered the truth about elapsed time, he used a dramatist's prerogative to compress and focus his story, thereby giving the reader a manageable framework. If he had told the story in real time, strung across all the days and months he did spend on Staten Island, he would have achieved the numbing truth of Andy Warhol's eight-hour film of a man having an eight-hour sleep. By careful manipulation he raised the craft of nonfiction to art. But he never manipulated Mr. Hunter's truth; there has been no "inferring," no "fabricating." He has played fair. That, finally, is my standard.
==========
- 我的标注 位置1582-1586 | 已添加至 2013年7月27日 星期六 19:50:51
I know that it's just not possible to write a competent interview without some juggling and eliding of quotes; don't believe any writer who claims he never does it. But many shades of opinion exist on both sides of mine. Purists would say that Joseph Mitchell has taken a novelist's wand to the facts. Progressives would say that Mitchell was a pioneer—that he anticipated by several decades the "new journalism" that writers like Gay Talese and Tom Wolfe were hailed for inventing in the 1960s, using fictional techniques of imagined dialogue and emotion to give narrative flair to works whose facts they had punctiliously researched. Both views are partly right.
==========
- 我的标注 位置1586-1588 | 已添加至 2013年7月27日 星期六 19:52:26
What's wrong, I believe, is to fabricate quotes or to surmise what someone might have said. Writing is a public trust. The nonfiction writer's rare privilege is to have the whole wonderful world of real people to write about. When you get people talking, handle what they say as you would handle a valuable gift.
==========
- 我的标注 位置1608-1610 | 已添加至 2013年7月27日 星期六 19:56:15
As a writer you must keep a tight rein on your subjective self—the traveler touched by new sights and sounds and smells—and keep an objective eye on the reader. The article that records everything you did on your trip will fascinate you because it was your trip. Will it fascinate the reader? It won't. The mere agglomeration of detail is no free pass to the reader's interest. The detail must be significant.
==========
- 我的标注 位置1621-1630 | 已添加至 2013年7月27日 星期六 20:01:01
How can you overcome such fearful odds and write well about a place? My advice can be reduced to two principles—one of style, the other of substance. First, choose your words with unusual care. If a phrase comes to you easily, look at it with deep suspicion; it's probably one of the countless clichés that have woven their way so tightly into the fabric of travel writing that you have to make a special effort not to use them. Also resist straining for the luminous lyrical phrase to describe the wondrous waterfall. At best it will make you sound artificial—unlike yourself—and at worst pompous. Strive for fresh words and images. Leave "myriad" and their ilk to the poets. Leave "ilk" to anyone who will take it away. As for substance, be intensely selective. If you are describing a beach, don't write that "the shore was scattered with rocks" or that "occasionally a seagull flew over." Shores have a tendency to be scattered with rocks and to be flown over by seagulls. Eliminate every such fact that is a known attribute: don't tell us that the sea had waves and the sand was white. Find details that are significant. They may be important to your narrative; they may be unusual, or colorful, or comic, or entertaining. But make sure they do useful work.
==========
- 我的标注 位置1734-1738 | 已添加至 2013年7月27日 星期六 20:22:52
Practice writing this kind of travel piece, and just because I call it a travel piece I don't mean you have to go to Morocco or Mombasa. Go to your local mall, or bowling alley, or day-care center. But whatever place you write about, go there often enough to isolate the qualities that make it distinctive. Usually this will be some combination of the place and the people who inhabit it. If it's your local bowling alley it will be a mixture of the atmosphere inside and the regular patrons. If it's a foreign city it will be a mixture of the ancient culture and the present populace. Try to find it.
==========
- 我的标注 位置1753-1754 | 已添加至 2013年7月27日 星期六 20:25:48
I'll never be able to visit Turkey again without noticing its sitters. With one quick insight Pritchett has caught a whole national trait. This is the essence of good writing about other countries.
==========
- 我的标注 位置1761-1762 | 已添加至 2013年7月27日 星期六 20:28:18
when you write about a place, try to draw the best out of it. But if the process should work in reverse, let it draw the best out of you.
==========
- 我的标注 位置1806-1807 | 已添加至 2013年7月27日 星期六 20:32:51
Beware of waxing. If you're writing about places that are sacred or meaningful, leave the waxing to someone else.
==========
- 我的标注 位置1836-1841 | 已添加至 2013年7月27日 星期六 21:47:44
If you're a writing teacher, make your students believe in the validity of their lives. If you're a writer, give yourself permission to tell us who you are. By "permission" I don't mean "permissive." I have no patience with sloppy workmanship—the let-it-all-hang-out verbiage of the '60s. To have a decent career in this country it's important to be able to write decent English. But on the question of who you're writing for, don't be eager to please. If you consciously write for a teacher or for an editor, you'll end up not writing for anybody. If you write for yourself, you'll reach
==========
- 我的标注 位置1836-1841 | 已添加至 2013年7月27日 星期六 21:47:59
If you're a writing teacher, make your students believe in the validity of their lives. If you're a writer, give yourself permission to tell us who you are. By "permission" I don't mean "permissive." I have no patience with sloppy workmanship—the let-it-all-hang-out verbiage of the '60s. To have a decent career in this country it's important to be able to write decent English. But on the question of who you're writing for, don't be eager to please. If you consciously write for a teacher or for an editor, you'll end up not writing for anybody. If you write for yourself, you'll reach the people you want to write for.
==========
- 我的标注 位置1849-1850 | 已添加至 2013年7月27日 星期六 21:58:31
Write about yourself, by all means, with confidence and with pleasure. But see that all the details—people, places, events, anecdotes, ideas, emotions—are moving your story steadily along.
==========
- 我的标注 位置1857-1859 | 已添加至 2013年7月27日 星期六 22:01:01
What gives them their power is the narrowness of their focus. Unlike autobiography, which spans an entire life, memoir assumes the life and ignores most of it. The memoir writer takes us back to some corner of his or her past that was unusually intense—childhood, for instance—or that was framed by war or some other social upheaval.
==========
- 我的标注 位置1865-1871 | 已添加至 2013年7月27日 星期六 22:17:21
Think narrow, then, when you try the form. Memoir isn't the summary of a life; it's a window into a life, very much like a photograph in its selective composition. It may look like a casual and even random calling up of bygone events. It's not; it's a deliberate construction. Thoreau wrote seven different drafts of Walden in eight years; no American memoir was more painstakingly pieced together. To write a good memoir you must become the editor of your own life, imposing on an untidy sprawl of half-remembered events a narrative shape and an organizing idea. Memoir is the art of inventing the truth. One secret of the art is detail. Any kind of detail will work—a sound or a smell or a song title—as long as it played a shaping role in the portion of your life you have chosen to distill.
==========
- 我的标注 位置2021-2023 | 已添加至 2013年7月27日 星期六 22:36:34
writing is not a special language owned by the English teacher. Writing is thinking on paper. Anyone who thinks clearly can write clearly, about anything at all. Science, demystified, is just another nonfiction subject. Writing, demystified, is just another way for scientists to transmit what they know.
==========
- 我的标注 位置2033-2034 | 已添加至 2013年7月27日 星期六 23:03:48
A tenet of journalism is that "the reader knows nothing." As tenets go, it's not flattering, but a technical writer can never forget it. You can't assume that your readers know what you assume everybody knows, or that they still remember what was once explained to them.
==========
- 我的标注 位置2037-2040 | 已添加至 2013年7月27日 星期六 23:04:56
Describing how a process works is valuable for two reasons. It forces you to make sure you know how it works. Then it forces you to take the reader through the same sequence of ideas and deductions that made the process clear to you. I've found it to be a breakthrough for many students whose thinking was disorderly.
==========
- 我的标注 位置2140-2141 | 已添加至 2013年7月27日 星期六 23:28:17
Always start with too much material. Then give your reader just enough.
==========
- 我的标注 位置2189-2190 | 已添加至 2013年7月27日 星期六 23:47:05
The principle of sequential writing applies to every field where the reader must be escorted over difficult new terrain.
==========
- 我的标注 位置2214-2215 | 已添加至 2013年7月27日 星期六 23:51:28
never forgets where he left his readers in the previous paragraph and what they want to know next.
==========
- 我的标注 位置2342-2342 | 已添加至 2013年7月28日 星期日 0:05:14
my four articles of faith: clarity, simplicity, brevity and humanity.
==========
- 我的标注 位置2383-2385 | 已添加至 2013年7月28日 星期日 0:08:39
Managers at every level are prisoners of the notion that a simple style reflects a simple mind. Actually a simple style is the result of hard work and hard thinking; a muddled style reflects a muddled thinker or a person too arrogant, or too dumb, or too lazy to organize his thoughts.
==========
- 我的标注 位置2440-2441 | 已添加至 2013年7月28日 星期日 9:40:28
The best sportswriters know this. They avoid the exhausted synonyms and strive for freshness elsewhere in their sentences.
==========
- 我的标注 位置2540-2541 | 已添加至 2013年7月28日 星期日 9:57:50
Red Smith had no patience with self-important sportswriting. He said it was always helpful to remember that baseball is a game that little boys play.
==========
- 我的标注 位置2640-2643 | 已添加至 2013年7月28日 星期日 10:23:22
True wit, however, is rare, and a thousand barbed arrows fall at the feet of the archer for every one that flies. It's also too facile an approach if you want to write serious criticism, for the only epigrams that have survived are cruel ones. It's far easier to bury Caesar than to praise him—and that goes for Cleopatra, too. But to say why you think a play is good, in words that don't sound banal, is one of the hardest chores in the business.
==========
- 我的标注 位置2672-2676 | 已添加至 2013年7月28日 星期日 10:25:28
In book reviewing this means allowing the author's words to do their own documentation. Don't say that Tom Wolfe's style is gaudy and unusual. Quote a few of his gaudy and unusual sentences and let the reader see how quirky they are. In reviewing a play, don't just tell us that the set is "striking." Describe its various levels, or how it is ingeniously lit, or how it helps the actors to make their entrances and exits as a conventional set would not. Put your readers in your theater seat. Help them to see what you saw.
==========
- 我的标注 位置2755-2756 | 已添加至 2013年7月28日 星期日 10:33:20
One lubricant in criticism is humor. It allows the critic to come at a work obliquely and to write a piece that is itself an entertainment. But the column should be an organic piece of writing, not just a few rabbit punches of wit.
==========
- 我的标注 位置2798-2802 | 已添加至 2013年7月28日 星期日 10:41:37
What is crucial for you as the writer is to express your opinion firmly. Don't cancel its strength with last-minute evasions and escapes. The most boring sentence in the daily newspaper is the last sentence of the editorial, which says "It is too early to tell whether the new policy will work" or "The effectiveness of the decision remains to be seen." If it's too early to tell, don't bother us with it, and as for what remains to be seen, everything remains to be seen. Take your stand with conviction.
==========
- 我的标注 位置2808-2810 | 已添加至 2013年7月28日 星期日 10:42:50
"Well," the man from Texas would break in, "let's not go peeing down both legs." It was a plea he made often, and it was the most inelegant advice I ever received. But over a long career of writing reviews and columns and trying to make a point I felt strongly about, it was also probably the best.
==========
- 我的标注 位置2868-2872 | 已添加至 2013年7月28日 星期日 10:52:54
What made those pieces work was that they stuck close to the form they were parodying. Humor may seem to be an act of gross exaggeration. But the hair curler letters wouldn't succeed if we didn't recognize them as a specific journalistic form, both in their style and in their mentality. Control is vital to humor. Don't use comical names like Throttlebottom. Don't make the same kind of joke two or three times—readers will enjoy themselves more if you make it only once. Trust the sophistication of readers who do know what you're doing, and don't worry about the rest.
==========
- 我的标注 位置2886-2888 | 已添加至 2013年7月28日 星期日 10:55:04
"I'm here and I'm involved": make that your creed if you want to write serious humor. Humorists operate on a deeper current than most people suspect. They must be willing to go against the grain, to say what the populace and the President may not want to hear.
==========
- 我的标注 位置2905-2908 | 已添加至 2013年7月28日 星期日 10:57:47
I suggest several principles for the writer of humor. Master the craft of writing good "straight" English; humorists from Mark Twain to Russell Baker are, first of all, superb writers. Don't search for the outlandish and scorn what seems too ordinary; you will touch more chords by finding what's funny in what you know to be true. Finally, don't strain for laughs; humor is built on surprise, and you can surprise the reader only so often.
==========
- 我的标注 位置3106-3107 | 已添加至 2013年7月28日 星期日 11:36:20
In short, our class began by striving first for humor and hoping to wing a few truths along the way. We ended by striving for truth and hoping to add humor along the way. Ultimately we realized that the two are intertwined.
==========
- 我的标注 位置3117-3119 | 已添加至 2013年7月28日 星期日 13:40:33
Don't alter your voice to fit your subject. Develop one voice that readers will recognize when they hear it on the page, a voice that's enjoyable not only in its musical line but in its avoidance of sounds that would cheapen its tone: breeziness and condescension and clichés.
==========
- 我的标注 位置3128-3131 | 已添加至 2013年7月28日 星期日 13:42:01
Nothing about it is accidental. It's a disciplined act of writing. The grammar is formal, the words are plain and precise, and the cadences are those of a poet. That's the effortless style at its best: a methodical act of composition that disarms us with its generated warmth. The writer sounds confident; he's not trying to ingratiate himself with the reader.
==========
- 我的标注 位置3131-3133 | 已添加至 2013年7月28日 星期日 13:43:11
Inexperienced writers miss this point. They think that all they have to do to achieve a casual effect is to be "just folks"—good old Betty or Bob chatting over the back fence. They want to be a pal to the reader. They're so eager not to appear formal that they don't even try to write good English.
==========
- 我的标注 位置3145-3145 | 已添加至 2013年7月28日 星期日 13:44:31
Write with respect for the English language at its best—and for readers at their best.
==========
- 我的标注 位置3170-3170 | 已添加至 2013年7月28日 星期日 13:59:01
Clichés are the enemy of taste.
==========
- 我的标注 位置3171-3172 | 已添加至 2013年7月28日 星期日 13:59:33
freshness is crucial. Taste chooses words that have surprise, strength and precision.
==========
- 我的标注 位置3273-3274 | 已添加至 2013年7月28日 星期日 14:16:13
Writing is such lonely work that I try to keep myself cheered up.
==========
- 我的标注 位置3350-3352 | 已添加至 2013年7月28日 星期日 14:24:55
my article was received by the birding community as a definitive portrait of Peterson. I mention this to give confidence to all nonfiction writers: a point of craft. If you master the tools of the trade—the fundamentals of interviewing and of orderly construction—and if you bring to the assignment your general intelligence and your humanity, you can write about any subject. That's your ticket to an interesting life.
==========
- 我的标注 位置3466-3467 | 已添加至 2013年7月28日 星期日 14:56:51
By far the biggest problem was compression: how to distill a coherent narrative from a huge and tangled mass of experiences and feelings and memories.
==========
- 我的标注 位置3570-3571 | 已添加至 2013年7月28日 星期日 15:13:31
what do your readers want to know next? Ask yourself that question after every sentence.
==========
- 我的标注 位置3851-3855 | 已添加至 2013年7月28日 星期日 16:21:13
one of the questions often asked by memoir writers is: Should I write from the point of view of the child I once was, or of the adult I am now? The strongest memoirs, I think, are those that preserve the unity of a remembered time and place: books like Russell Baker's Growing Up, or V.S. Pritchett's A Cab at the Door, or Jill Ker Conway's The Road from Coorain, which recall what it was like to be a child or an adolescent in a world of adults contending with life's adversities.
==========
- 我的标注 位置3855-3856 | 已添加至 2013年7月28日 星期日 16:35:18
But if you prefer the other route—to write about your younger years from the wiser perspective of your older years—that memoir will have its own integrity.
==========
- 我的标注 位置3900-3901 | 已添加至 2013年7月28日 星期日 16:40:22
you are the protagonist in your memoir—the tour guide. You must find a narrative trajectory for the story you want to tell and never relinquish control.
==========
- 我的标注 位置3939-3942 | 已添加至 2013年7月28日 星期日 16:52:13
My final reducing advice can be summed up in two words: Think small. Don't rummage around in your past—or your family's past—to find episodes that you think are "important" enough to be worthy of including in your memoir. Look for small self-contained incidents that are still vivid in your memory. If you still remember them it's because they contain a universal truth that your readers will recognize from their own life.
推荐 20
  财新博客版权声明:财新博客所发布文章及图片之版权属博主本人及/或相关权利人所有,未经博主及/或相关权利人单独授权,任何网站、平面媒体不得予以转载。财新网对相关媒体的网站信息内容转载授权并不包括财新博客的文章及图片。博客文章均为作者个人观点,不代表财新网的立场和观点。